How Chem-Dry Celebrates Independence Day!
SUNDAY, JULY 24, 2022
Happy 4th of July everyone from your Chem-Dry family! We hope you and your family had a wonderful celebration of our country. As America celebrates its 245th birthday, we'd like to share some of our favorite traditions for the 4th of July!
Fantastic Fireworks
As children, one of the most common answers would be the fireworks show! It's always a good time going to the most popular spot in town and finding the best place to watch the fireworks. It's a great way to bring the town together and see family and friends in the community all coming together to celebrate the country that we live in. Also, it can be so rewarding to see the different small businesses in the community and support them as they are usually around the festivities! Supporting the little guys in your community helps everyone!
Cooking with Colleagues
Another tradition that's always fun is a big barbecue with your friends and family! Whether it's burgers, brats, hot dogs, steaks, or chicken, it's always great to be able to enjoy great foods with those around you. Being able to cook with friends and have everyone do their part to help enjoy the meal is great and can help meet new people as well.
Games & More
Finally, the best part about 4th of July is the activities that are done at the barbecue. Some folks play corn hole or horseshoes, and others play board games like monopoly or charades, but they are always a great idea to have at a party to keep it fun with those you're celebrating with.
At the end of the day, we at Chem-Dry hope you had a fun and safe holiday with friends, and always remember to celebrate your country!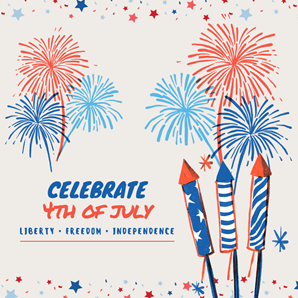 BACK TO BLOGS